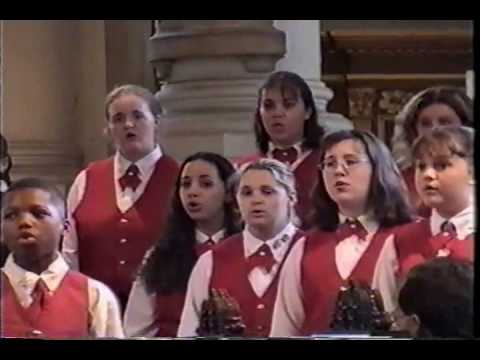 Performance recorded at St Sepulchre-without-Newgate church, in London, England.
During the month of July in 2000, the Tampa Bay Children's Chorus (TBCC) toured all over the countries of England and Scotland, bound for their eventual destination of St Andrews, Scotland for Doreen Rao's CME concert. The TBCC touring choir is made up of children ages 12-18, from all over the Tampa Bay area. For more information, visit their website at www.tbcchorus.com
Conductor: Dr. Averill Summer
Violin: Tiffany Lu
Piano: Kurt B. Knecht
CHOIR MEMBERS:
Katie Agner, Erica Baker, Elizabeth Bawel, Emily Bolt, Rebekah Bowsher, Bethanie Collins, Kathryn Culbreth, Casey Day, Janine Diaz, Charlie Dreblow (me), Mindy Ecob, Kaelen Fitzgerald, Kari Hamada, Michaela Harris, Maria Hastings, Cassidy Hile, Clifford Lu, Tiffany Lu, Richie Lupo, Ashley Mead, Megan Mullen, Kary Nettestad, Obi Obiamaka, Molly Padgett, Joshua Quinn, Missy Sawdey, Jon Scott, Amanda Shafer, Stephanie Smiguel, Heather Springer, Sam Taylor, Jonathan Tietz, Jessie Vaughn, Nicole Villemaire, Katharine Wilson, and Katherine Wytka.
BANKS OF DOON LYRICS:
Ye flow'ry banks of bonnie Doon,
How can ye bloom so fair?
How can ye chant, ye little birds,
And I so full of care?
Thou will break my heart, ye bonnie bird,
That sings upon the bow.
Thou 'minds me of the happy days
When my false love was true.
Thou'll break my heart, ye bonnie bird,
that sings beside thy mate;
For so I sat, and so I sang,
And knew not of my fate.
Oft have I roved by bonnie Doon,
To see the woodbine twine;
And every bird sang of its love,
And so did I of mine.
With lightsome heart, I pulled a rose
From off its thorny tree,
And my false lover stole my rose
But left the thorn with me.
Ye flow'ry banks of bonnie Doon,
Stole my rose but left the thorn with me.